The Effective Volume (EV) method is first and foremost a statistical method for detecting institutional accumulation/distribution at the level of individual stocks. Combined with value-measuring methods, EV has shown a consistent ability to generate above average returns.
Since 2008, this method has been used to calculate the money flow at the sector level using a 20-day rolling window. The basic principle is that the majority of funds (large players, smart money) spread risk across stocks within the same sector. The growing use of ETFs further reinforces sector investing.
The signals coming from 94 different sectors (which represent more than 900 stocks) are used to create our market direction model called the 20-day money flow (or "20DMF").
20DMF Trading rules and trade records
:
The_20DMF_Evolutions_June_2012.pdf
The following Improvements to the 20DMF RT model have been made
- Past and current status messages have been added to the 20DMF RT page.
- Red, Green and Blue lines are now automatically displayed to show the possible level of the closest signal change.
- An alert e-mail will be sent on a signal change
- The NYSE Cumulative Tick has replaced the inversed ETF that had been used on the 20DMF EOD model.
In December 2012, following the results of the study published below and after more than one year of testing the 20DMF RT using the "Cumulative Tick confirmation" and the "Forced Buy" rules, we decided to integrate these rules to the 20DMF EOD.
http://www.effectivevolume.com/conte...0DMF-Revisited
On August 4, 2014, I published the following Article that refines the Oversold signals on the 20DMF.
This improvement started to be applied right away.
http://www.effectivevolume.com/conte...-August-4-2014
We can see in green the 20DMF returns since 2009 using this improved method, compared to the earlier 20DMF Model that is shown in blue. Although both outperformed the S&P500, the green model is betetr at capturing the S&P500.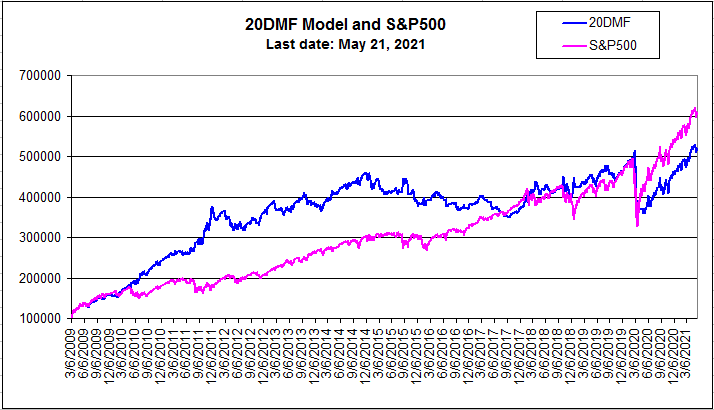 Disclaimer
Signals are provided as general information and are not investment recommendations. You are responsible for your own investment decisions. Past performance does not guarantee future performance. Opinions are based on historical research and data believed reliable, there is not guarantee results will be profitable. I am not responsible for errors or omissions. I may invest in the vehicles mentioned above.